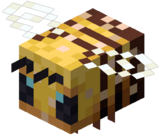 | | |
| --- | --- |
| Effect | Собирает мёд |
| Health | |
| Damage | |
| Experience | |
Bees have appeared in new versions, they are generated in the plain, in the flower forest, in the sunflower plain. Their nest hangs on a tree, under leaves, up to three bees can fit in one. Bees are neutral to the player if they are not attacked and the beehive is not destroyed. Otherwise, the entire swarm attacks the player and stings him, poisoning him. At the same time, the eyes of the bees turn red.
Bees return to the beehive at night, fly over flowers during the day, and collect nectar. In the beehive, honey gradually accumulates, which the player can collect in a glass bottle. You can collect honeycombs from the beehive: for this, you need to cut them off with shears. When collecting honey, bees also become aggressive, so to avoid this, you need to light a fire under the beehive.
If the player is holding a flower in his hand, the bee will fly after him.
How to breed:

Poppy
Publish date:
09/20/2021
Modify date:
10/16/2022