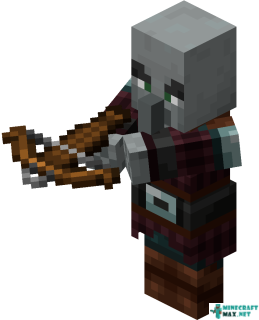 | | |
| --- | --- |
| Effect | Атакует на расстоянии |
| Health | |
| Damage | |
Pillager is a hostile mob, similar to a villager, but with gray skin and different clothes. Attacks villagers and the player shoots from a crossbow. One of the pillagers has a flag.
The pillagers spawn in the outpost, this is a large house, with a raid and patrol.
The raid consists of several raids, the scale is at the top of the screen. In the raid can participate, witches, the evoker, and the ravager. When the player defeats all the foray of the raid (up to 7 times), he is given the achievement - Hero of the village, and the villagers let off several fireworks in his honor.
Drop:

Crossbow
Publish date:
09/20/2021
Modify date:
02/15/2022