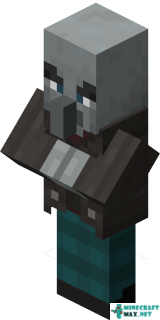 | | |
| --- | --- |
| Effect | Наносит сильный урон топором |
| Health | |
| Damage | |
| Experience | |
The Vindicator is a hostile mob armed with an iron axe. Vindicators are found only in forest mansions in the amount of several pieces. After the player kills them, they will not spawn again. The vindicators also take part in raids, attacking both the player and the villagers. At the same time, they can open and break wooden doors.
The vindicator can be called using the summoning egg.
If a vindicator is killed by a player or a tamed wolf, a drop drops out of him: 5 experience points, 0-1 emeralds (only if killed by a player), sometimes an axe falls out with which the vindicator was armed. If the killed vindicator was the captain of the raid, then an ominous flag may fall out.
Publish date:
09/20/2021
Modify date:
01/06/2023