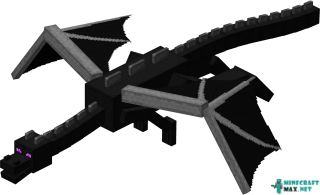 | | |
| --- | --- |
| Effect | Breaks blocks |
| Health | |
| Damage | |
| Experience | |
Ender Dragon is the largest mob boss living in the Ender biome. This is a black dragon with glowing purple eyes. Defeating the Ender dragon is the ultimate goal of a Minecraft player.
Ender dragon appears only once on the central island. He flies around Ender and destroys all blocks and entities not from his dimension. It is capable of destroying almost any blocks with the exception of obsidian and some other blocks that are formed in the Ender itself (see below). An Ender dragon can simply fly through such blocks.
The player can damage the ender dragon with any weapon, but the dragon constantly replenishes the health reserve with the help of Edge crystals, which are located on high pillars. Therefore, before starting a battle with Ender's dragon itself, you need to destroy all the crystals.
After the death of the Ender dragon, a large amount of experience drops out, a portal to the ordinary world and a dragon egg appear.
Drop:

Dragon Egg
Minecraft versions: 11 / 10.5.1 / 1.22 / 1.21 / 1.20 / 1.19.1 / 1.19
COMMAND: ender_dragon
Publish date:
09/20/2021
Modify date:
01/16/2023