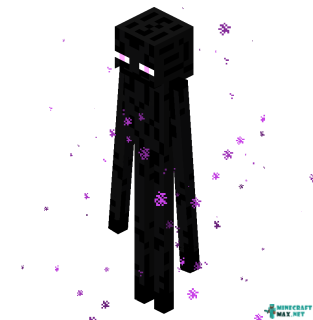 | | |
| --- | --- |
| Effect | Teleports |
| Health | |
| Damage | |
| Experience | |
Enderman is a neutral mob that can become hostile if the player attacks him or looks at him with a weapon in his hands. Enderman appears at night, rarely during the day, teleports short distances, is afraid of rain, can take and transfer blocks to another place.
While attacking, enderman opens his mouth, trembles, and makes howling sounds, always attacks from the back of the player, inflicting heavy damage.
Enderman cannot be killed with a bow - he teleports before the arrow hits him.
If the player puts a pumpkin on his head, then he will be able to look at the Enderman and not be afraid of the attack. An enderman cannot enter a room if it is below 3 blocks in height, this can be used in a battle with him.
Enderman's pearls drop after his death.
Drop:

Ender Pearl
Minecraft versions: 11 / 10.5.1 / 1.22 / 1.21 / 1.20 / 1.19.1 / 1.19
COMMAND: enderman
Publish date:
09/20/2021
Modify date:
01/31/2022