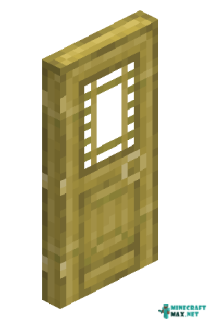 The bamboo door was added to Minecraft in the experimental build 22w42a. It has the same properties and functions as any wooden door, but it has an interesting unique design that allows it to be used in buildings of different styles.
The bamboo door is installed in an opening two blocks high and can be opened with the right mouse button. The door can be opened by a player or villagers. At the level of the game "Hardcore" zombies can break down a bamboo door.
The bamboo door has a strength of 3. It is easy to destroy it with an axe, the fastest is with a golden axe.
Minecraft versions: 11 / 10.5.1 / 1.22 / 1.21 / 1.20 / 1.19.1 / 1.19
COMMAND: bamboo_door
Publish date:
10/21/2022
Modify date:
11/01/2022