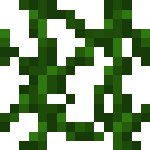 Vine or liana grows on trees and leaves in the swamp and jungle biomes. Differs in color - in the jungle, the vine is showy green. The vine is broken easily by hand or any tool but does not fall out. To harvest the vine, it needs to be cut with shears, then the vine can be hung on the side of any solid block and it will grow downward.
All mobs and players can freely pass through the vine, but snowballs and eggs do not pass.
You can climb up the liana, but only if there is a block behind it.
Minecraft versions: 11 / 10.5.1 / 1.22 / 1.21 / 1.20 / 1.19.1 / 1.19
COMMAND: vine
Publish date:
09/20/2021
Modify date:
01/25/2022