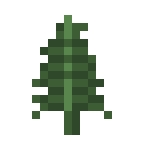 The fern in Minecraft is one of the varieties of plant blocks, a type of grass. The fern is a dark green plant resembling a Christmas tree. It can be found in the biomes of taiga, megataiga, snow-covered taiga, podzolic taiga and jungle.
It has variations of a spreading fern and a tall fern.
If you get a fern by hand, there is a very small chance of wheat seeds falling out. As a rule, nothing falls out. And if you get a fern with scissors, then the fern itself will fall out. It can be collected in inventory and moved to another place for planting.
Minecraft versions: 11 / 10.5.1 / 1.22 / 1.21 / 1.20 / 1.19.1 / 1.19
COMMAND: fern
Publish date:
09/20/2021
Modify date:
12/05/2022